Early February 1986 the band spent 3 days recording 3 tracks at the Chapel Studios in Lincoln : In The Clouds, Love Leads Nowhere, and End Of The Day. This time the sleeve design was done with a somewhat lower budget : Tim's mother, a teacher at an infants school, made the children draw a picture after listening to the demotape. One of the pictures was chosen as cover for the 12"-only release. Julianne's sister Lise (later married to new drummer Mark Price) took the group photos featured on the back.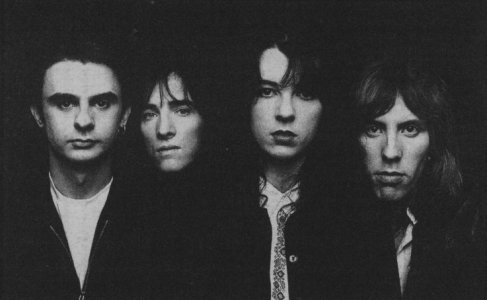 Another gig at the Clarendon followed, supporting Balaam and the Angel, which got a good review in the Sounds magazine. Four weeks later, In The Clouds made it as single of the week in Melody Maker and got played a number of times on BBC radio. In June Mick Mercer got them their first interview in Melody Maker.
Some more songs were written : Set Sail (later rewritten as Candy Tree) , Will You Surrender, Our Summer, Dream Now, and Shelter From The Rain.

At this time the Eves wanted a change of direction; the Goth sound was changed in favour of slower, folky songs, with Julianne wearing white dresses. This caused a lot of their following to drop off, and a headline gig at the Timebox on September 22 was only attented by 30 people, even though one day earlier they went down a storm supporting X-Mal Deutschland.

Julianne's love of Australian band The Church and her work backing with The Fifteenth (rehearsals, portastudio demos, guest vocals at gigs) set a new direction to slower, acoustic songs like My Heart Is Sleeping (later rewritten as Never Promise), Gypsy Dance, Appletree Man, and In The Meadow.

In the meantime, Jake had given his friend Wayne Hussey of The Mission a demotape of the Eves, and in August Julianne was asked to do backing vocals on The Mission's song Severina. In return, Mick Brown would play drums on the Eves' new single and Wayne would later contribute backing vocals to the album track Shelter From The Rain. This was the start of a long relationship with The Mission, with the Eves supporting them on November 25 at the National Ballroom in Kilburn.